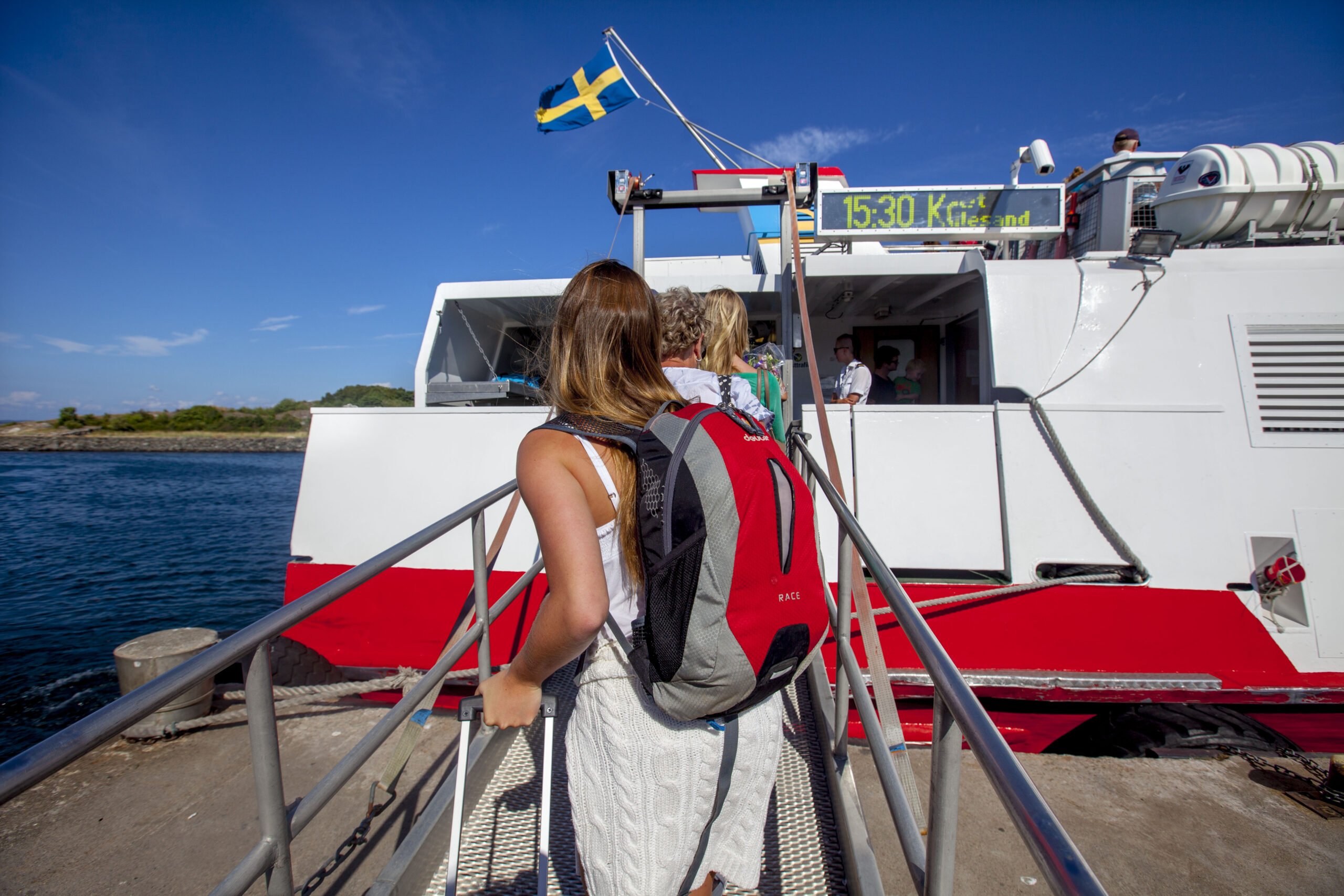 The Koster Islands are located just outside Strömstad in northern Bohuslän. It consists of two islands, North and South Koster, separated by a narrow strait, and outside are a number of islets and islets. If you don't have your own boat, you can take passenger ferries from the northern harbour in Strömstad, departing daily throughout the year. The crossing takes between 30-50 minutes depending on where on Koster you are getting off.
Ticket purchase & Tour list Kosterbåten
You don't need to pre-book tickets, but you can buy T/R tickets at the pay machine on the quay in Strömstad.
You can also pay for your ticket with a Västtrafik card or use the Västtrafik To Go app.
You can also pay on board (debit card only).
All variants of "Region Round" apply (Archipelago charging does not apply).
You can bring your own bike/kayak for an extra charge and subject to availability.
Timetable The Koster Ferrys, download PDF from Västtrafik
More information about the Koster ferrys and timetable>>
By car – Summer: long term parking & free parking bus!
Strömstad is easily reached via the E6. There are exits from both the north, at 112 Blomsholmsmotet (from Oslo – 130km) and the south, at 111 Skee (from Gothenburg 160 km).
Centre is divided into parking zones with different time limits and fees.
– In the centre of Strömstad you can park for a maximum of 3 hours.
– Within walking distance (about 5-15 min walk to The Koster ferrry you will find parking spaces from 10 hours up to 24 hours and 7 days.
If you are visiting us during the summer months and want to park for longer than 24 hours, we recommend our long-term parking at the entrances, Hålkedalen, Strömstad gymnasiet and Bojaren. 40:- / day and you can stay up to 7 days.
From here in summer (from mid-June to mid-August) there are free parking buses tothe city centre (the square where the Koster boat departs from). The buses run according to the "Hop on – Hop off" principle between. 08:15 and 20:30 and stops are about 20-40 min, but be sure to arrive early as summer traffic in the city centre can cause delays.
Read more about Parking Strömstad Municipality
By train & bus
The train or bus is a convenient way to get to and from Gothenburg. It takes about 5 minutes to walk from the station to the Koster boat landing.
From and to Oslo you travel by bus Strömstad – Halden (line 111) and train Halden – Oslo
With your own boat
Position: 58°53.36 N 11°2.54 E
Perhaps the most pleasant way to get to Koster is by boat. Information about the ports of Koster can be found here
Keep in mind that…
Charts may not be used for navigation at sea. Charts only provide an overview, but no deeper information and are therefore not useful from a maritime safety perspective. The archipelago around the Koster Islands is one of the most beautiful in the world, but it is also a demanding area to navigate.