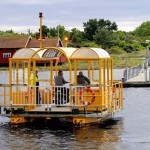 The cable ferry Kosterlänken is a connection across the Koster Strait between North and South Koster. During the summer months, the little ferry is manned every day from June until mid-August. During the rest of the year, visitors can travel between the islands on the Koster boat from the Västra Bryggan jetty on North Koster to Långegärde on South Koster for a fee, and children up to 13 years of age can travel for free. If you are not in a rush, you can be lucky and get across with a local on the cable ferry.
Payment machine (card) available at the quay or SMS payment (no cash).
For current information and operation see link to Kosterlänken Strömstad Kommun
Winter 2023: The ferry Kosterlänken closed between 23 January and 24 March for maintenance work.
Driving the Kosterlänken ferry
To drive the ferry, you need an approved introductory course. Link to more information on training and rules